10 on-trend foodie ideas to try in October just for you
In the Indy Chef kitchen we look forward to all the new foodie ideas and trends a new season brings and October is no exception.
Foodie ideas and trends do not always have to be about baking and cooking new recipes or using a new ingredient, they can be as simple as finding a new farmers market in your local area or attending a local food festival.
On our quest in searching for trendy food stuff we have found some corking ideas and treats for you!
We have selected our top favourite on-trend foodie ideas we feel are worthy of sharing with you – our fabulous readers!
1. Eat your Greens (including Seaweed)
No longer is seaweed just reserved for laying sadly along seashores or adorning Sushi, it's an ingredient definitely worth stocking up on. It's packed full of nutritional benefits including vitamin K, protein and Iodine.
You can buy Seaweed in lots of different forms, we personally love using dried Seaweed. Simply crumble the dried Seaweed over a winter orange and spinach salad or a thai chicken soup for an earthy warm flavour, extra crunch and a punch of healthy goodness. The kids won't even realise you're adding an extra dose of greens to mealtimes…shhh!  
2. Hibernate with cherry juice
Tart cherries are one of the few natural sources of melatonin, which is responsible for the regulation of our body's internal clock and sleep-wake cycle. Researchers believe it's the high does of melatonin in tart cherries that might help you sleep better at night. So get more into you if you're needing some restful sleep.
You can easily get this extra does of melatonin by simply drinking two 8-ounce servings of cherry juice daily. Enjoy a glass in the morning with breakfast and incorporate another in your evening routine. Or enjoy a handful of dried tart cherries as an after dinner snack. You might find that you're long nights of tossing and turning or counting sheep are over.
3. Maximise your muffin tin
Use your muffin tin to make mini cornbreads, perfect for lunches and easy to freeze! Or why not create crunchy tortilla cups by moulding flour tortillas over an upside down muffin tin and baking until hard. Fill with chicken fajita for a tasty and easy lunchtime snack. What a great idea!
4. Go to a foodie mecca
No matter what city you live in or around, as October hits, a feast of food festivals pop up and give us all the chance to walk amongst amazing smells and taste some totally awesome food! It's a chance for small producers and food makers to show off their new creation and its also a chance for you to sample food you may never have eaten before, yummo!
Fancy home made creamy ice cream with a side of crispy maple bacon? A food festival could be the perfect place for you.
From wine and food festivals to weekend music and food events, check out your local area and pencil a food mecca in your October diary.
5. Get tech savvy and remember your food!
Tracking what you eat can be a tedious practice. Food-tracking apps allow you to track your food throughout the day, for some people they use it track calories and for others they may want to remember what they cooked for dinner a week ago! Taking pictures of our food is a great way of remembering an awesome recipe or meal you want to create or enjoy again!
Here's how the new APP works. You open the Lose It! APP and navigate to the Log tab. Tap the camera icon next to the meal or snack you'd like to log and either snap a photo or choose one from your library. The app will analyze the image and offer up suggestion as to what it may be.
Once you select the correct suggestion, you will then be able to choose the specific food from the APPs extensive food database of more than 7 million items.  A great idea if you are someone who likes to remember a GREAT meal and remember WHEN you enjoyed it. Via cnet.com
If you need a tech break and like us, on occasion you just want to print a good old fashioned shopping list, we present to you our quick and easy FREE meal planner. Select one of our many recipes and even pencil in a few for the week ahead. You can then print off what you need to take to the grocery store! As busy moms ourselves, we are very proud of our quick and useful online planner. Did we mention it was FREE?!
6. Strike it lucky with Gold
Don't worry you won't need to go digging for this gold!
Turmeric is our new best kitchen friend. Known for its amazing benefits to health, this wonder spice has been used in medicine for 1000's of years! Turmeric has an earthy flavour and a slight spicy aftertaste. We like to simply shake over warm mashed potatoes or use it in our delicious Indian Chicken Coconut Curry, don't be shy when it comes to using this fabulous versatile and ancient wonder spice. It's a bit of gold we can all afford.
7. Listen in to food
Do you need a little 'pick me up' for your commute or when you are driving the kids to school? Then tune into The Menu a wondrous marvel of podcasts which cover food trends and foodie talking points, and has interviews with top chefs. Now that is multi tasking and foodie inspiration at your fingertips!
8. Work the season
A new season and elements it can bring present many opportunities for play and learning.
Foraging is becoming a growing trend in foodie groups and you can forage anywhere, even in urban areas. In Europe, it's still quite common to see people picking up hazelnuts, mushrooms, walnuts, nettles and other goodies in urban green spaces.
Here in America most city parks have specific regulations against picking plants, but you'll often find tons of unused fruit trees in people's yards. Most homeowners will gladly let you pick some of their fruit if you ask politely first.
Apples grow readily this time of year – ask a neighbour if you can pick a few and make our sweet and flavoursome Apple and Cranberry Crisp.
 9. Make the most of your freezer
Using your freezer for leftovers is not a new concept we know! Open most freezers and there will be plenty of leftovers neatly frozen, waiting for their next outing to the family table. BUT we love to use our freezer for a bit of early ingredient prep.

Press your garlic to get ahead in your Autumn recipe prep.
Get ahead and press a few garlic cloves, place the crushed pieces in a freezer bag, mark the bag and you've got crushed garlic ready to add to your winter casseroles, how easy is that? You can also do the same with fresh herbs, give them a wash and spin them dry in your salad spinner, chop them up and place them in the freezer for the day when you just don't want to face washing and chopping your herbs or are running short on time! The little bags take up minimal room in the freezer too!
 10. Retro Baking!
On a cold October Sunday afternoon, there is nothing better than to heat up the oven, dust off your apron and grab your whisks for a bit of baking. Retro baking is a foodie trend set to grace our kitchens this fall. Retro bakes are being taken to a new level, chefs are adding their own signature twists and classic recipes are being combined with modern ingredients to give the bakes a visual WOW and a full retro taste sensation. Stay tuned!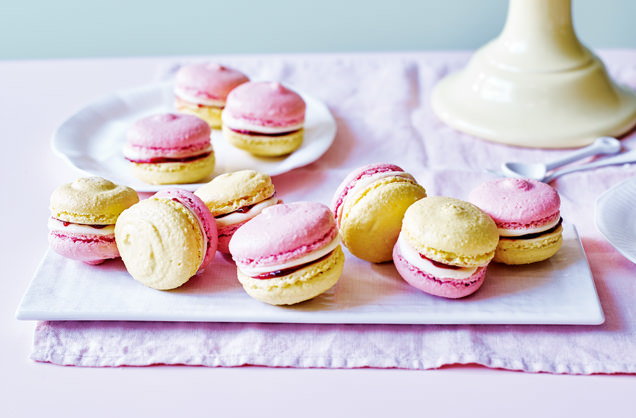 From decadent and light checkerboard cake macarons to the succulent and nostalgic carrot cake, retro bakes will be a trend we'll all be eager to be a part of! We have our Indy Chef aprons on and ready to go!
We simply love our take on a classic Silky Smooth Lemon bar – zesty, fruity and colorful enough to brighten any dull autumn day. Try it out for yourself, you won't be sorry!
It's time to get your retro bake on!
Taking yourself out of your comfort zone this October, could lead you to a food festival, bake a load of retro treats for your family or even go foraging for seasonal fruits in your local area!
What will you choose to try this fall?